Farm Rescue Good Samaritan Award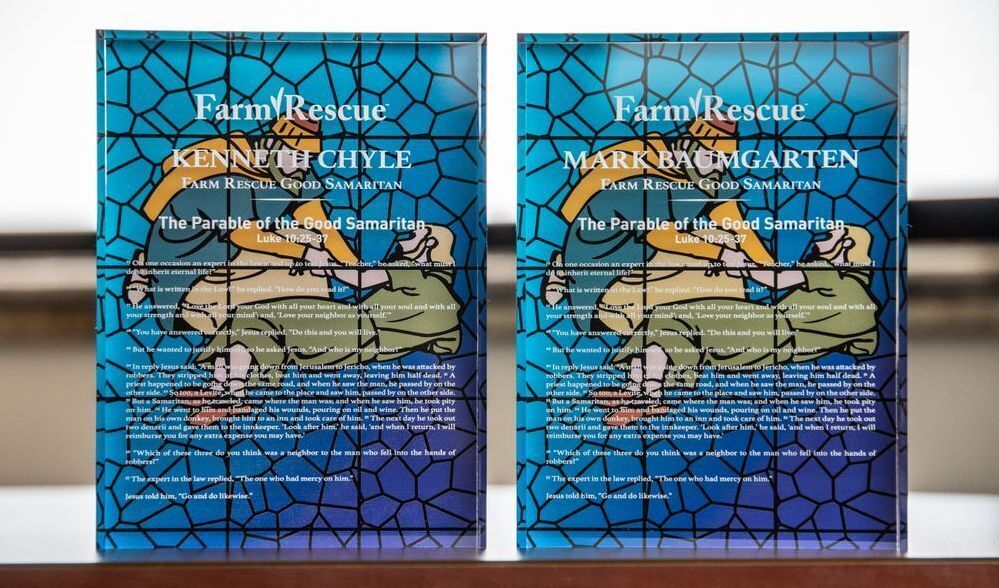 The Good Samaritan Award was created in 2016 to honor individuals who support Farm Rescue with the compassionate heart of the Good Samaritan. That support may include an overwhelming contribution to further the mission of the organization, serving as an ambassador for our nonprofit, or going above and beyond as an Angel in Blue volunteer to help farm and ranch families in crisis. Throughout our history, many have contributed to the growth and success of Farm Rescue, and for that reason, it was difficult to recognize only one recipient of this yearly award. Beginning in 2019, our staff and board of directors began honoring two individuals as our annual Good Samaritans.
Recipients of the Farm Rescue Good Samaritan Award include:
Agnes Liudahl - West Fargo, ND (2016)
Reuben Liechty - Jamestown, ND (2017)
The Engelstad Family - Las Vegas, NV (2018)
Gene Spichke - Kief, ND (2019)
Warren Zakopyko - Kief, ND (2019)
Bill Krumwiede - Voltaire, ND (2020)
Erwin "Smokey" Wright - Minot, ND (2020)
Charlie Bartsch - Velva, ND (2021)
Garry Deckert - Bismarck, ND (2021)
Mark Baumgarten - Bettendorf, IA (2022)
Kenneth Chyle - Auburn, KY (2022)
We look forward to honoring many other well-deserving recipients with this award throughout the years to come!