While it obviously takes a revenue stream to pay the bills at Farm Rescue, our organization relies heavily on the time and talents of others to succeed. From our "Angels in Blue" in the fields, who operate the farm machinery, to our behind-the-scenes graphic designers, Farm Rescue exists because of volunteers. And many have found unique ways to contribute to our organization.
Here are a few ideas from our friends on how to be a Farm Rescuer!
---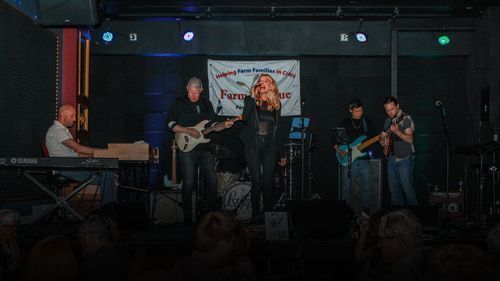 Farm Rescue is blessed to have an amazing family of talented volunteers. Unsurprisingly, many of these volunteers have a wealth of talent within their own families. Vane Clayton has been serving our mission for several years. His wife, Cass Clayton, is an accomplished musician. On May 6, 2023, they teamed up to host a Farm Rescue benefit concert at the Orchid Denver music venue in Denver, CO. The Cass Clayton Band performed to a packed house of generous attendees, with special messages from previously-assisted farm families and Farm Rescue's executive director, Tim Sullivan. Another instrumental contributor to this fundraiser was Dave Harrison with ANV Partners, who went above and beyond in recruiting attendees, as well as donating high-value auction items and additional financial gifts. The event was an overwhelming success, with more than $125,000 raised to support our assistance operations! We are beyond thankful to Vane, Dave, Cass, her talented band and everyone who contributed to this incredible fundraiser!
CLICK HERE to watch a few highlights from this amazing event.
---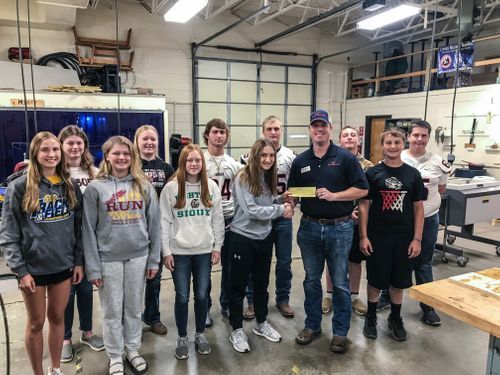 A local FFA chapter in LaMoure, North Dakota, hosted a hot ham and cheese tailgating fundraiser at a home football game in support of Farm Rescue operations. Community members donated more than $500 to our mission, and we were honored to receive a check from these amazing young men and women who "believe in the future of agriculture with a faith born not of words, but of deeds."
---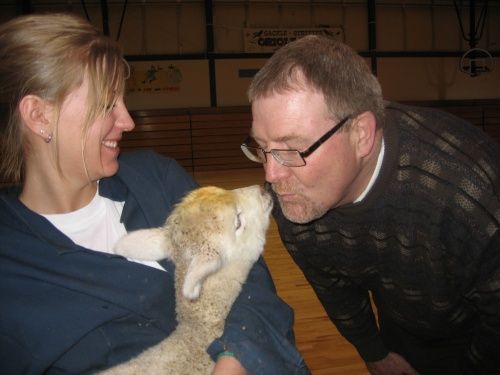 Gackle-Streeter High School created the cute and cuddly "Kiss the Lamb Contest." The person who gets the most votes gets to kiss a little lamb. FFA students raised $300 for Farm Rescue.
---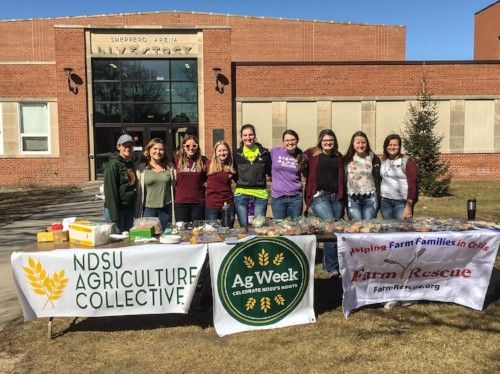 The wonderful women of Sigma Alpha at NDSU host an annual bake sale during National Ag Week, with all proceeds benefiting Farm Rescue.
---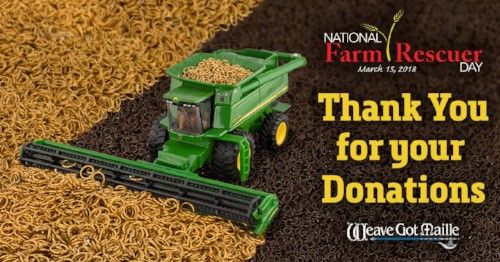 "Weave Got Maille", an online craft store that specializes in retail chainmaille supplies, donated all sales to Farm Rescue during a 4-day stretch surrounding National Farm Rescuer Day.
---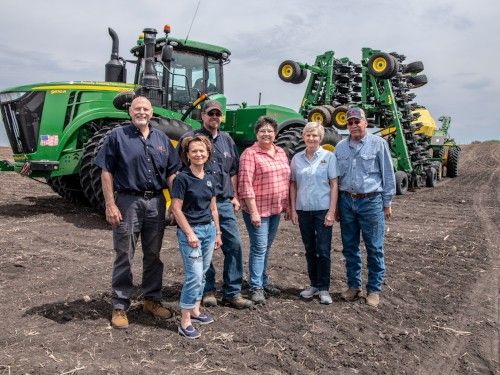 Throughout Farm Rescue's history, many local businesses and individuals have graciously prepared and delivered meals to our volunteers in the field. These food blessings are always greatly-appreciated by our hardworking crews! (Pictured above are Sargent County FSA employees with Farm Rescue volunteers and assisted farmer, Harvey Bergstrom)
---
In Michigan, "The Duck Lady" sews beautiful fleece blankets for Farm Rescue.
---
NDSU Saddle and Sirloin Club hosts the Paddy Drop, which is quite possibly the craziest and most creative fundraising event ever! The floor of Shepperd Arena is divided into 1.5 x 1.5 foot squares that correspond to a number and letter on a grid. Raffle tickets are sold for each square. A dairy cow is released in the Arena. Wherever she lets her "paddy drop", corresponds to a raffle ticket that was sold.
---
The Farmers Union Collegiate Chapter of North Dakota State University raised funds from their Annual Charity Dodgeball Tournament. Twenty-nine teams of six players each compete for cash prizes of $100, $75, and $50. Businesses from around the Fargo-Moorhead community and around the state made contributions to the tournament. In return, their name was printed on the back of the tournament t-shirts. Each team registered by the deadline received a free t-shirt for participating in the event.
---
One motorcycle enthusiast in New York state coordinated a Harley Davidson Benefit Run.
---
Lisa Goetz, Volunteer Council Chair of Aetna, raised money for Farm Rescue with a front-row parking space at her office building. A drawing was held for the ownership of the great parking spot. For every dollar each person contributed, his or her name was placed in the drawing.
---
Quentin and Renee Overbeck raised funds for farm families on their wedding day. This generous couple forwarded donations from friends and family to Farm Rescue.
---
Driscoll Grace Lutheran Church and Thrivent Financial put the "fun" in fundraiser with their chili and pie contest. Grace Lutheran Church raised money with their event and Thrivent Financial matched their funds. Together, they raised $1,559.55.
---
BNC raised $82.00 for Farm Rescue through Casual Days. Employees donated $1 to dress casual for the day.
---
First Presbyterian Church in Breckenridge, Minnesota, had the help of little hands to donate funds to Farm Rescue. The children collected donations through Vacation Bible School.
---
"Denim and More" donated beautiful handmade quilts, aprons and dresses for the silent auction at our annual Farm Rescue banquet.
---
Let your creative juices flow when it comes to donating to Farm Rescue. The sky is truly the limit!