May 7, 2021 - Hitting Our Stride
It was an exciting week for our volunteers and staff as the first acres were seeded with Farm Rescue's new row crop planter. This machine is incredible, to say the least. Thanks to help from Gooseneck Implement, John Deere Seeding Group's, Brian Boelens, and our amazing volunteers and Field Ops Managers, the planter was primed and ready for its first case near Wolverton, MN. The family receiving assistance has truly been through the ringer these past few months. In addition to a recent COVID-19 diagnosis within their home, they were dealt another difficult hand in February when a cow attacked husband/father, Robert. He sustained several broken bones in the incident, including a broken back. He also underwent a recent surgery on his gallbladder. Under doctor's orders, he is currently unable to operate equipment, which prevented him from carrying out his necessary planting work. Farm Rescue was honored to assist with the family's corn and soybean crops. Crew number 2 joined the effort and they made quick work of a few hundred acres. Crew number 3 headed east with the planter to Mankato, MN and crew number 2 ventured west to Ashley, ND. Crew number 1 spent their week near Williston, ND, assisting a farmer who is dealing with complications from a gallbladder surgery of his own. They're nearly wrapped-up with their durum and oat planting efforts and will be moving to New Salem, ND for another assistance case. 
Operation Hay Lift is still moving forward, but we could sure use some additional donated hay to support ranch families in areas of drought and wildfire. If you or someone you know might have a load or two to spare, we'd love to talk with you! Please contact Neil Simons at 701-212-3851 or neil@farmrescue.org.
As always, none of these efforts would be possible without our wonderful "Angels in Blue", serving as Farm Rescue's boots on the ground. They sacrifice their time and energy to provide a light to families during some of their darkest days. A big THANK YOU to this week's Farm Rescuers in the field: Mike Wilson, Steve Satterthwaite, Tom Meyer, Ron Donohue, Brian Boelens, Rich Thuesen and Mark Burton (who celebrated a birthday in the field). We cherish each and every one of you!
Until next time, 
Dan Erdmann - Program Manager
---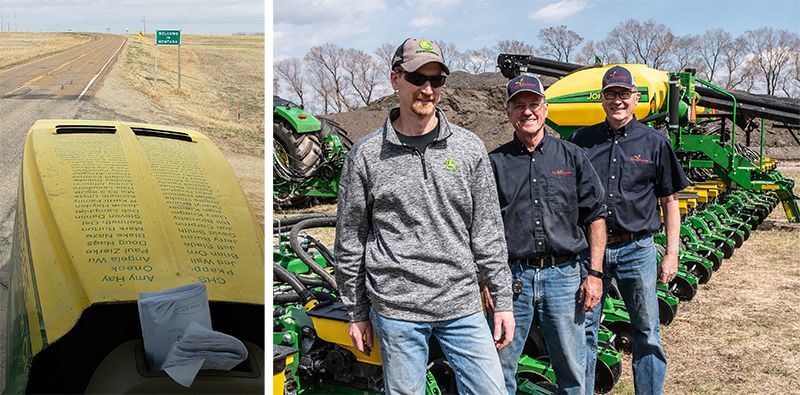 April 30, 2021 - Plenty of Windshield Time
It's been another busy week, with many miles and acres covered by our Angels in Blue. Crew number 1 finished up their wheat planting near Badger, MN for a farmer injured in a recent fall. From there, they made the long trek to Grenora, ND - about a stone's throw from the Montana border. Our volunteers were honored to plant wheat for a farmer dealing with major complications related to cancer surgery. Once their work is complete, they'll be moving on to Williston, ND to tackle more wheat for a farmer in need. Crew number 2 wrapped up their corn acres for a farmer recovering from a recent shoulder surgery. They've since joined our Field Operations Manager, Luke, to ready our new row crop planter for its maiden voyage. This unit will begin work today near Wolverton, MN for a farmer who was injured by one of his cows back in February. The severity of his injuries will prevent him from operating any machinery this spring, so our volunteers will be planting both corn and soybeans for the family.
Operation Hay Lift has also begun to take shape, with assistance applications arriving daily and coordination of trucks, volunteers and deliveries keeping our second Field Ops Manager, Neil, busier than ever. This week, the first of many loads of hay was delivered to a farm near Lemmon, SD. This family has not only been impacted by wildfire and drought, but the wife of the operation is currently battling cancer. One load of hay may seem like a drop in the bucket in the grand scheme of things, but even a drop can make a difference. We are still in great need of donated hay to support other families throughout these areas of severe and extreme drought, so if you or someone you know could spare a load or two, please contact Neil Simons at 701-212-3851 or neil@farmrescue.org.
It is always an honor to thank the selfless individuals who power this greater Farm Rescue machine. Without your dedication and giving hearts, we simply could not fulfill this mission. A huge THANK YOU to this week's Farm Rescuers in the field: Brian Boelens, Ron Donohue, Tom Meyer, Mike Youngblood, Greg Kalinoski, Kenneth Chyle, Emil Baranko, Neil Simons, Luke Benedict and Andy Jewitt. God bless you all!
Until next time, 
Dan Erdmann - Program Manager
---

April 23, 2021 - An Early Start
It's the first week of planting season at Farm Rescue, which would normally signal the start of our yearly assistance operations. However, this year's efforts began a bit earlier than expected, so there's a lot to catch you up on...
In mid-January, a wildfire began in southwest North Dakota. Wind gusts of 50-70 mph fueled the blaze, as it continued its southerly course near Lemmon, SD. When the smoke cleared, around 20,000 acres of land had been burnt black. Nearly two dozen families were affected - suffering loss of cattle, fencing and important grazing ground. Support from folks throughout the region began to pour in and Farm Rescue also joined the relief effort. In the weeks that followed, our volunteers delivered much-needed hay and fencing supplies to many of the affected families. Unfortunately, the dry conditions that helped fuel this particular fire have worsened in many areas of our service territory. Rural fire crews have been stretched to their limits as a flurry of additional wildfires spread throughout these increasingly dry areas. A majority of North Dakota is now in severe or extreme drought zones, as well as portions of eastern Montana and western South Dakota. 
For this reason, Farm Rescue has once again launched "Operation Hay Lift" to haul crucial livestock feed to ranchers affected by these natural disasters. This campaign may last several months, so we are putting out the call for hay donations, volunteer CDL drivers and monetary gifts to help support this mission. The duration of this relief effort will be contingent upon available resources, so let us know if you can help! If you have a load or more or hay to donate, please contact our Field Operations Manager, Neil Simons, at neil@farmrescue.org or 701-212-3851.
Ranchers affected by wildfire or those operating in D2 (Severe Drought) zones or higher are asked to fill out applications for hay hauling assistance, which will be processed on a first-come, first-served basis. Ranchers facing challenges due to wildfire and those residing in D3 (Extreme Drought) zones or higher will be given priority on any available donated hay. If the volume of donated hay does not meet the need requested through submitted applications, ranchers may still qualify for hauling assistance depending on proximity to their farm. Applications for HAY HAULING ASSISTANCE can be submitted through our website - farmrescue.org.
In addition to our ongoing hay hauling efforts, Farm Rescue volunteers also began planting the first seeds of 2021 this week for a couple farmers in need. Crew number 1 is currently near Badger, MN, assisting a farmer who was injured in a fall. After sustaining injuries to his shoulder and back, he's currently limited to use of one arm. Our volunteers are honored to lend a much-needed helping hand in seeding his wheat. Crew number 2 is near Canton, SD, where another farmer is recovering from shoulder surgery. These volunteers are working hard to assist with his corn planting as he continues his recovery.
As you might imagine, none of this work simply comes together on its own. It takes a tremendous collaborative effort from staff, volunteers, sponsors and donors to bring it all to fruition. There are so many folks to thank for their help this winter and early spring, so I apologize if I forget to mention you by name. Just know that we cherish each and every one of you! Thank you to Vane Clayton, Garry Deckert, Corey Hyde, Don Knight, Kieth Worthley, Kelly Krog, Keith Bisson, Jerry Terwee, John Andrews, Greg Kalinoski, Mike Youngblood, Kenneth Chyle and Emil Baranko. And another big thanks goes out to our equipment and vehicle sponsors for providing the necessary tools and service to accomplish our mission - especially John Deere, AgriVision Equipment, Gooseneck Implement, Green Iron Equipment, Langdon Implement, Leading Edge Equipment, PrairieLand Partners, RDO Equipment Company, TrueNorth Equipment, Van Wall Equipment, Heartland Chevy Dealers, Puklich Chevrolet and Ryan Chevrolet, as well as Agassiz Seed & Supply for working with us to coordinate appropriate fencing supplies for our wildfire relief efforts near Lemmon. You are all Farm Rescuers!
Hopefully you're still with me at this point, but as I mentioned, there's a lot to catch up on! We are very excited for the year ahead (which we hope is a little less chaotic than 2020) and I look forward to providing plenty of updates along the way.
Until next time,
Dan Erdmann - Program Manager