May 17, 2019 - Progress and Purpose
Our amazing and dedicated volunteers continue to work some long days and nights, planting seeds of hope for farmers in crisis throughout the region. Crew 1 started their week in New Salem, ND, seeding soybeans for a farmer who recently had open heart surgery. Thanks to some cooperative weather, they've now moved on to Hazelton, ND to assist a farmer currently receiving cancer treatments. Crew 2 spent most of their week planting wheat near Cleveland, ND for a farmer undergoing kidney transplant surgery. It's a truly amazing story, as his wife is serving as the kidney donor. After wrapping up with wheat, Crew 2 traveled to Litchville, ND to plant 800 acres of soybeans for a producer who recently suffered a stroke. Both crews have been working day and night to cover as much ground as possible. 
As our air seeders roll in the field, our semi trucks continue to rack-up roadway miles in support of Operation Hay Lift. Volunteer drivers have delivered more loads of donated hay to flood-stricken ranchers in Nebraska this week, with several more loads planned in the weeks ahead. If you're a Farm Rescue volunteer with a CDL, let us know if you're available to help carry out this mission!
We are truly beaming with pride for the many Farm Rescuers supporting our assistance efforts. In addition to our generous sponsors and donors, a great big THANK YOU goes out to the volunteers who selflessly give of themselves to serve others in need. This week's talented crews consisted of Tom Meyer, Ron Donohue, Ken Enstrom, Larry Begyn, Jeff Preston, Jerry Burau, Mike Wilson, Mike Youngblood and David Frueh. None of this would be possible without you!
Until next week, 
Dan Erdmann, Marketing Communications Officer
---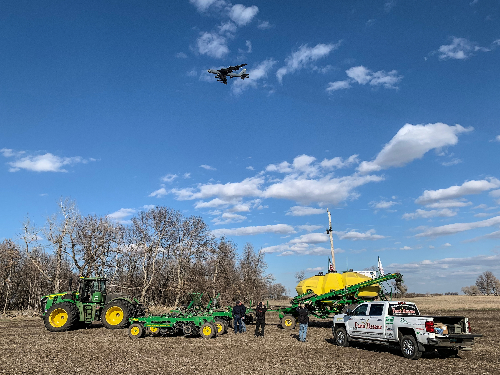 May 10, 2019 - Planting Operations Soar
It's been a whirlwind couple of weeks at Farm Rescue, as our volunteers have truly hit the ground running! Our two new John Deere 9620R four-wheel drive tractors (made possible through the generosity of MANY individuals, families and businesses) are already being put to good use. Crew 1 started the season in Beulah, ND planting oats for a farmer currently receiving cancer treatments. From there, they traveled to Arnegard, ND to seed wheat and barley for a farmer recovering from torn ligaments in his arm. They wrapped up the week near Alkabo, ND planting peas for another farmer battling cancer. Crew 2 planted their first seeds of spring near Glenburn, ND for a farmer who suffered severe burns in an explosion on his farm. The proximity to Minot Air Force Base also made for a lot of traffic overhead throughout the week, as they planted many acres of wheat for the family. Both crews are currently en route to their next locations, which you can read more about in next week's update!
In the midst of our usual planting efforts, Operation Hay Lift volunteers continue to haul much-needed cattle feed and supplies to ranchers affected by flooding in Nebraska and the surrounding region. So far, the campaign has helped to coordinate and deliver more than 100 loads (and counting!) of feed and supplies.
As always, none of these efforts would be possible without the support of our amazing sponsors, donors and volunteers. Many of our Angels in Blue have been hard at work carrying out our mission, including Mike Melaas, John and Carol Andrews, Tom Meyer, Mark Baumgarten, Clay Robertson, Mark Burton, Jerry Burau, Mike Wilson, Jeff Preston, Steve Satterthwaite and David Frueh. Thank you to all of our wonderful Farm Rescuers!
Until next time,
Dan Erdmann, Marketing Communications Officer
---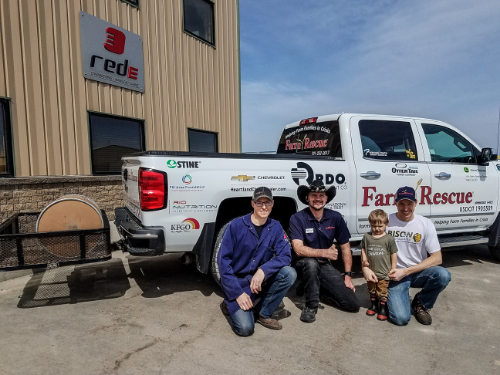 April 26, 2019 - Time to Get Planting!
We are on the road! While two seasons merge, with "Operation Hay Lift - Nebraska" trucks still putting on miles, delivering much needed feed and supplies, AS1 (Air Seeder 1) is equipped and the crew is getting the equipment on the road after last minute setup. A big thank you to business sponsors RedE, Needham Ag Technologies, and No Till Drill for assisting with providing and installing parts for our air-seeders before we hit the dirt! Our first stop with AS1 is near Beulah, ND assisting a farmer dealing with surgery recovery and cancer treatments.
A great big thank you to all the sponsors, donors and volunteers that make this all happen. Volunteers hauling supplies in Nebraska and doing setup this week were: Jeff Slade, Mike Platt, Carol Wielenga, Kieth Worthley, John Pruessner, Bill Yankee, Andy Jewett, Tim Thompson, Todd Thompson, Clarence Kuss, Mike Blair and Mike Melaas. We could not do it without each of you, the Farm Rescuers!
Until next time ~
Carol Wielenga, Program Director
---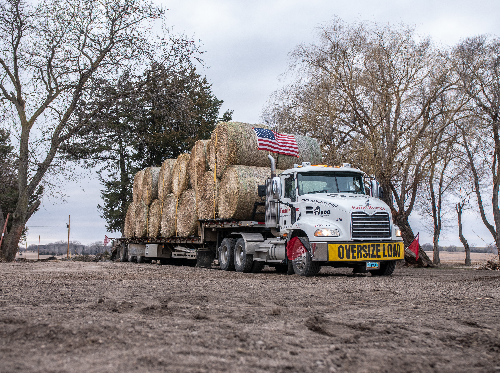 April 19, 2019 - Operation Hay Lift 2.0
Operation Hay Lift in Nebraska is still in full gear as we get set up for spring planting operations. So far, we've delivered loads to over 60 producers in Nebraska and Southern South Dakota to provide relief in the midst of the flood devastation. Thank you to the many who have donated to this cause: monetarily, through hay, fencing or truck donations, or in volunteering their time and energy. The generous outpouring of these resources has been amazing to see. 
As we move into spring, one of the tractors arrived on site at the dealership and we will have it in motion soon as we eagerly await the second. Spring planting will start in western North Dakota near Beulah and Minot. As planting volunteers head onto the scene and logistics come together, we look forward with anticipation of helping as many farmers in crisis as possible through this hand up - safely, efficiently, together. Thank you for your thoughts.
Blessings ~
Carol Wielenga, Program Director